STEP OIL Company Ltd announces a Security Token Offering (STO) for the purchase of three selected oil field with ownership based on blockchain technology
With a team of highly skilled experts, years of geological survey, and reports for investment preparation, Step Oil, (in partnership with Arys Munay LLP and UST Resources LLP ) intends to purchase the strategic oil fields and their Subsoil hydrocarbon use rights.
Step Oil Company Ltd was founded in 2016 for investments in the oil & gas sector in the Republic of Kazakhstan. Since establishment, the Step Oil team has completed studies and surveys of the oil fields in Kazakhstan.
Andrey Ozernov, CEO of STEP OIL stated: "After an intensive period of preparation we are now delighted with the start of our "purchasing stage".
Investors who wish to benefit from the prospective success of the resources, STEP OIL will conduct a Security Token Offering (STO) on or before the end the year.
The investment Token is combining the advantages similar to a stock market investment, together with blockchain technology. Every investment Token holder will participate in the exploitation and derive the benefits of major resources of oil, and will receive dividend payments.
Further details will be communicated by Step Oil Company Ltd in a separate press release, which will be sent out before the beginning of the STO.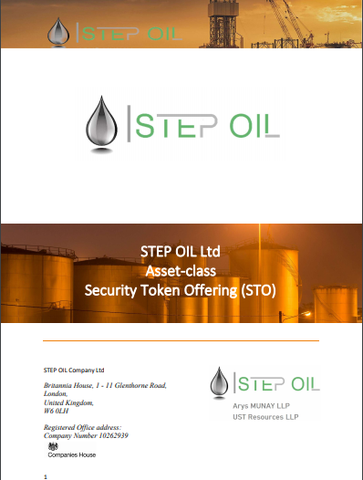 Step Oil intends to create a separate pool of funds equal to 30% of the net profits of all operations for the purpose of dividend payments to the investors. A more specific explanation with details can be found in Step Oil's "White Paper".
Today as scheduled, after years of geological surveys, reports, and investment preparation, Step Oil, (in partnership with Arys Munay and UST Resources) has achieved its preliminary stages of development (See Road map above)


Step Oil (with Arys Munay and UST) completed agreements for the Subsoil hydrocarbon use rights, the accompanying assets, and retains the exclusive rights for the purchase and the development of 3 major oil fields.
Step Oil has received reports of the proven oil and gas reserves provided by Kazakhstan State Commission and confirmed by an independent oil expertise company.
Step Oil has secured pre-transactions agreements in an exclusive partnership with major oil exploitation firms (pipeline junctions) and with the Kazakhstan Administration.
Step Oil is now managing a final round of investments for the purchase of three selected oil fields. This strategical milestone will open an immediate access for the continued operation of oil production and exploitation of 158 Million barrels of resources (proven categories P1 and P2).
2019 Q4 and 2020 will be dedicated for the completing of this investment and therefore for the development of its production from 284.000 barrels (2019) up to 2.456.000 barrels (2024 plan)
Those investments operations are managed through 3 segments: Tenge, Jupiter Block 31 and Korolevskoe.